AdeniumRose Company Photo Gallery Adeniums
Links to other Photo Galleries: Adenium 3-in-1 Euphorbia Millii Hoya Plant Plumeria Flowers
AdeniumRose desert rose plant photo gallery. All the images you see here were taken by our staff members. None of the colors have been changed whatsoever. You will find many adenium plant site on the web with modified images showing untrue colors of the actual flowers. The majority of the images where taken either in natural sun light or by using a flash. We are not professional photographers. Go to our blog at http://www.adeniumrose.com/blog for more images and articles on flower types, colors and growth.
Magenta Violet or red?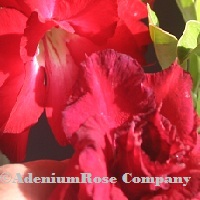 This is an example of color naming and true colors in adenium desert rose plants.Adenium plants common name is the "desert rose plant". There are many different adenium plants with a very wide range of colors, leaf shapes and flower sizes. The adenium rose plant flower on the upper left portion of the image is a medium red color. The bottom right flower is considered a magenta color with violet edges.

In the image we received before importing the above plant it showed a much richer magenta/violet color same as you see on many Ebay images. Do not be fouled by altered Ebay images. The images on this site are 100% unaltered images. The above image of an adenium plant flower was taken in natural 80% natural sunlight. The flower to the bottom is called King Magenta which produces LARGE flowers with darker edges that tend towards the violet color.

Please Read what "Not Proven" means - Please note images from Thailand are labeled "Not Proven" which means we have not seem the actual flower bloom. When they bloom, we will take new images and remove the words "not proven". Usually images received from Thailand are 80% to 100% accurate. Some are just like the images from Thailand ans some are not. Once they start to flower at our nursery we will replace the images with ones we take adn remove the Not Proven (NP) from the description. All images with "not-proven" are not guaranteed to be accurate adenium flower colors.
Stock - These images are of current plants and ones from the past. Please refer the the Adenium pages to determine which ones are in stock now.
| | | |
| --- | --- | --- |
| | | |
| Red and white Peaceful Thai desert rose plant | Not proven desert rose flower called Peachy adenium | Bright yellow adenium flower called Thai delight - proven! |
| | | |
| Carnation kiss proven flower type desert rose plant | Dazzle Thong desert rose plant | Great red with white and on some a darker red stripe insread of read - New Girl adenium plant |
| | | |
| Morning Rose hybrid adenium plant with tons of veins on the petals. Not proven | Ruffle Feathers white adenium flower with slight pink tint towards the wavy edges. Not proven | Grand Thai new yellow addition and proven flower type. Yellow petals with yellow/green center. |
| | | |
| Rose White new desert rose flowering succulent. Image of plant flowering at our nursery! | Stephanie was a quick bloomer at our nursery. It's a medium size flower with broad stripes. | Sinshine Ray yellow, white and pink all in one proven flower. |
| | | |
| Phantuma Pink mediun solid pink flowering adenium plant. | Var Purple Heart imge from Thailand grower. Once we see the bloom we will update image. | Kitty blooming at our nursery. This image is a first bloom. Usually 2nd/3rd blooms have richer colors. |
| | | |
| Queen crown - new adenium plant with great contrasting colors Not proven | BIg Burst desert rose plant Large flowering adenium Not Proven | Rich Rose adenium desert rose plants succulent. New late 2015 Not proven |
| | | |
| Silk Yellow. there are two version of this one one is like the above image and the other a large single petel. Not proven | Bella New - adenium rosy plant . Several flowered just like the image above. | Fantasy unusual adenium flowering plant. New late 2015 not proven |
| | | |
| Plum Blossom Unusual pointy petal shape. Not proven. | Red songa desert rose plant. Rich red with usual petal shape for an adenium plant. Not proven. | Super violet with rich colors. The flower has variatiosn of colors like the image. |
| | | |
| Gala red large adenium desert rose flower. A few bloomed some with a little less whtie area than the image an some just like the image. | Fancy Yellow great looking yellow flower succulent adenium plant. | Thai White new for the summer adenium plant. |
| | | |
| Saptaweekum adenium. They were the largest desert rose plant flower. On young plants it bends the branches! | Forever Love adenium. New white with vivid stripes - new for 2015. | Crisp yellow New. Ruffled edges triple flowering adenium. Not proven |
| | | |
| Chok Rasami another very popular new fall 2104 via summer pick best flower contest. . | Thong Sunray new desert rose yellow with stripes. not proven | Tri Glory new desert rose plant. Unusual petal shape makes this one a rarity. Not proven |
| | | |
| Sunset Passion This is a top pick and always run out before we can see the bloom! | Tranquill Sunrise adenium flower succulent. Not proven. | Yellow dream adenium. A medium yellow large colro adenium plant. |
| | | |
| Blood Black dark adenium plant. Great very dark desret rose plant. | Bliss new for fall 2014 desert rose flowering succulent. | Dragon Purple Numer one pick adenium flower contest summer 2014. |
| | | |
| Jarongtong medium size flwoering desert rose plnat. Gret color and very popular. | Nino fancy new fall desert rose plant. Not proven | Peth sairong. This is another one we have had in the past and this image is accurate base on past plants. |
| | | |
| Wanjai adenium flowering succulent new first flowering July 2014 | Yellow Master yellow triple adenium plant. | Purple Ruffle new. A Triple adenium plants with wavy edges |
| | | |
| Variegated One of Siam Leaves are proven but not the flower. the leaves are green and white. Great two tone leave - white/green | Variegated Sapphire The red veins and green leaves are proven but not the flower. Great two tone leaves - green/redish pink.. | Violet Harry adenium plant. great contrast on theis floweirng succulent. |
| | | |
| Purple Rose - Rich color adenium plant. | Siam Classic - the image shows a triple but its acutall a double adenium flower bright with stripes! | Triple Formosa adenium plant new that first arrive Sping 2014. |
| | | |
| Black Bird - These can in and went right out. We plan to get more in the future. | Black Rose Not Proven desert rose plant. rich red with dark edges. | King Violet succulent plant adenium. We have had this in the past but we need to see the flwoer again before we say proven! |
| | | |
| Party Dancing with ruffled pink edges. Good size flowering succulent plant desert rose. | Umbrella adeniumYellow with orange/yellow edges. Birhgt yellow with red/yellow center. | White Serona Triple layer adenium flowering all white adenium. |
| | | |
| Kitty - Pink and white. Very exact petal shape unusual form. This image is yellowish but the flower is NOT yellow. | Klongtoey. Violet to purple triple desert rose flower. Not proven | Kasuma violet Winter violet with darker outer flower petals. Very popular flowering desert rose. |
| | | |
| Baby Bengy Great triple with stripe adenium plant. Desert Rose plant | Darling Yellow triple adenium plant flowering succulent. Image of our first bloom in our Miami nursery | Hawaii Love adenium hybird plant adenium plant received. Rich red colors medium size flower. |
| | | |
| Siam Gold. Several clients received this one in the mystery packs. It's a great bright desert rose flowering plant. Yes its a triple! | Hiphob triple desert rose plant flowering succulent. Actual picture taken at our nursery in Miami Florida! | Coco Lee - White adenium plant with tons of rippling edges - reminds me of a carnation flower. |
| | | |
| Valentine - adenium flower right red with dark ruffled edges desret rose plant. | Wanida - desert rose hybrid plant. Large flowering adenium plant. | Crazy Yellow 2013 batch adenium obesum plant desert rose yellow with red veins. |
| | | |
| Bella -flower desert rose plant . | C America - Large adenium flower with light yellow towards center that does ton show well in the image. | Sapchareng almost purple desert rose plant. Great rich color medium size adenium flowering succulent plant. |
| | | |
| 7 Petals/Santa glory. Multiple layers of 7 petals round dark red with light edges. Not Peroven. | Tong Sapang This adenium plant has a bit of everything yellow red veins and pink stripe! | Kuraphin half and half petals new breed of adenium flowers. |
| | | |
| Tong Yod Yellow Dream. Caudex 1.75" to 2.5" New yellow with bright red. | Mary Jane triple light to medium yellows with approximate adenium caudex size of 1.75" to 2.5" . | Rose Mary red with dark edges. Caudex 1.5" to 2.25" |
| | | |
| Long time favorite Christmas Santa not always availible so get it while you can. | New Jersey. Rich red with white towards the center. Large size flower size. Caudex 2" | Miami. Large flower triple layer dark pink stripe adenium plant! Caudex 2" |
| | | |
| White Flora AD3. Three layer adenium white plant with a very slight pink tone in the very center cluster. | New Triple Maru that rivals amazing Siam. The colors are a bit richer than amazing Siam. | King Violet is a rich color adenium plant flower with varying shades of violet and red-violet. Great addition to any desert rose collection. |
| | | |
| Peth Sairoung recently bloomed. Great veins triple petal pink edged with a yellow tint. Great new desert rose addition. | Pink Panter new flower first. White and yellow adenium flower with red-pink vines. The yellow gives great contrast to the veins! | Promsap. White adenium flower with red distinct stripes. Large flower! Caudex 2.0" to 3" |
| | | |
| | | |
| Pete pan quad layer pink with dark pink edge adenium plant. Not proven - received caudex 1.5" to 2" | New York. Just like the city this desert rose plant has a lot to offer. Unusual color pattern. Double? Triple? Caudex 2" to 2.5" | Papa Dream triple layer white ruffled edges adenium plant. Great spiraling petals just like a rose bush flower! |
| | | |
| Happy gold Quad layer light to medium yellow adenium hybrid plant quad layer flower. | Rare variegated leaves Harry. Green and white leaves two tone leaves rare adenium plant. Caudex 2.5" to 3" | Mai Thong Adenium plant yellow with pink edges triple. Caudex 2" to 2.5". Actual flower color is lighter than shown. LIght to medium yellow. |
| | | |
| | | |
| White House quad white adenium. Great size flower with leaves that end in a point. | Jakawan triple layer flower medium sizered with white/yellow throat. Edges tend to be darker. Caudex 2" to 2.5" | Chapttip Adenium flower with an unusual center thistle - very uncommon! Caudex 2" to 2.5" |
| | | |
| Ninja large size Desert rose plant with very dark edges. Caudex 1.75" to 2.5" Not-proven | Noug-Rao adenium plant. Look at the image. These one varies between the two flowers. Caudex 1.5" to 2.5" | Ora Bright Very high contrast colors triple layer adenium |